Colombian Food Restaurants: The Power of Passion and Commitment
Colombian food is not an easy cuisine to find in Miami. Colombian dishes are usually a family recipe passed down from generation to generation (very common in South America), which makes it difficult to find an authentic Colombian restaurant outside of our country. Even with the difficulties Colombian food has faced in the U.S., there are still some Colombian restaurants that serve authentic Colombian food and have succeeded in doing so for many years.
A three-spot Colombian restaurant
If yThere has been a Colombian food craze in the United States for years now, but with all of these new restaurants popping up and taking over, which one is your favorite? This Colombian restaurant defines what Colombian cuisine is about. The flavors are fresh and unique to Colombia or Latin America while still being accessible to American palates.
Rancheritos is a Colombian food restaurant that has 3 different locations all around Miami, and they have been able to reach this level of success because of their passion for Colombian food. Colombian cuisine is known for its fresh ingredients and unique flavors that you won`t find anywhere else in the United States. They also give an amazing experience every time with a warm atmosphere, friendly staff, and authentic Colombian dishes.



Typical Colombian Food
Rancheritos has managed to keep up with the changing times while staying true to themselves by making the best Colombian food accessible to everyone no matter what their background or where they live. Colombian cuisine is a tradition, and Rancheritos has been able to do that while keeping their prices affordable for everyone with a distinct flavor.
Colombian food is typically not spicy like some Latin American dishes, so for the Colombian people, it's a dish that can be enjoyed by anyone. Colombian food is also very flavorful and healthy for you. Colombian dishes are typically heavy on proteins, like beans, rice, eggs, and beef; vegetables such as peppers, tomatoes, or avocado; and herbs that give Colombian food a distinct taste.


What defines a traditional Colombian dish?
Colombia's cuisine is as diverse and varied as the country it comes from. From regional staples to international influences, what differentiates our food from the rest of typical cuisines in South America is that no two dishes are alike in Colombia. The most common ingredients used across all regions include corn, white rice, potatoes, sweet plantains, and yucca with other traditional ingredients that create our delicious Colombian food.
From an array of flora and fauna so vast that it has been declared one of thirteen biodiversity hotspots on Earth come varying culinary creations. Colombian cuisine is so varied that also includes a wide variety of tropical fruits like mango, banana, papaya, guava, lulo, and passion fruit.
Best Colombian dishes for your visit
Bandeja paisa
Traditionally the Bandeja Paisa includes beans, white rice, chicharrón (fried pork), powdered meat (chorizo mixed with flour and water pressed into a patty to turn it dry like jerky), fried egg, fried sweet plantains, and avocado.
Colombian Ajiaco
Is a dish (common in Latin America) that has been around for years. This soup brings together an array of different ingredients and flavors to make one great-tasting meal! Colombian Ajiaco typically includes chicken, three types of potatoes, onion, corn on the cob, and "guascas". The taste can vary from potato-based varieties with only vegetables such as carrot sticks in place of the meat up to beef stew versions which include white rice instead too – you have endless options when it comes down to this recipe's preparation!.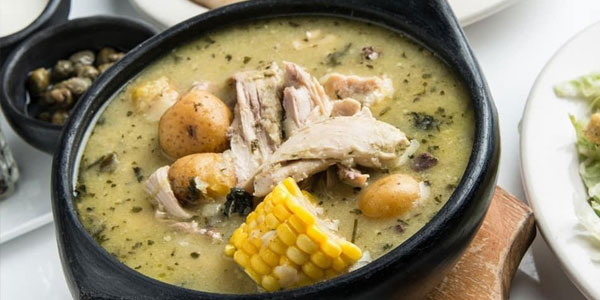 Empanadas
It's a dish that can be filled with meats, vegetables, or cheese and is then wrapped in thin cornmeal to form the dough. They are folded into half circles before being fried so they come out crispy on the outside while staying soft throughout.
Sancocho
The most traditional sancochos are made with a broth or soup base, the main ingredient of which is usually either yucca or potato. Sometimes they're topped off with some meat (think chicken, beef, and fish), giving them their final name in Colombian cuisine
Arepas
The arepa is a type of corncake that has been the staple food for generations in many Latin American countries. It can be eaten sweet or savory, and sometimes accompanied with cheese to make it more filling. The dough itself consists mostly of white flour mixed into boiled milk until you get something edible but not too firm.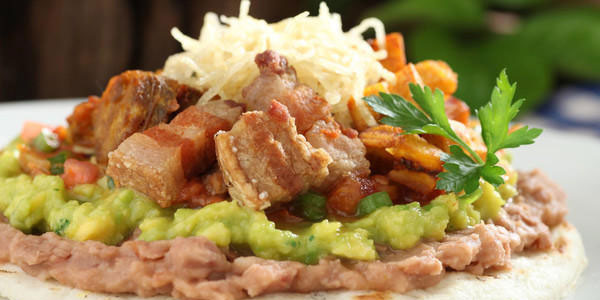 At Rancheritos, we believe that the best Colombian food should be accessible to everyone.
Therefore, we are proud to have three different locations all around Miami, so you don't miss out on anything. We know it can feel intimidating trying new things for the first time, but our staff is always there with a smile, and they will help you find something delicious that suits your taste buds perfectly! Visit us now and enjoy an amazing experience at one of 3 Colombian restaurants in Miami today.