Rancheritos Brings Colombian Food: Bandeja paisa
Colombian culture is very diverse and has a wide variety of traditional foods. We want to tell you about the one we are most proud of making, the "bandeja paisa" which is an amazing dish that consists of red beans cooked with pork and white rice topped off by ground meat, fried egg, plantain (plátano maduro), chorizo sausage and avocado on top; all served up on one big platter or tray for your viewing pleasure! It is known as the national dish in Colombia thanks to its flavor and history. This food was born from our tradition but it also found its way into American Latin cuisine thanks to Rancheritos restaurant located in Boca Ratón who serves this delicious Colombian meal!



Bandeja paisa is a traditional Colombian dish that dates back centuries influenced by a variety of cultures including indigenous peoples and colonial Spaniards as well as Africans.
The dish is a symbol of Colombian culture, regionalism, and diversity. It is also believed that bandeja paisa has its roots in the pre-Columbian indigenous culture with its variety of ingredients, some of which have been replaced by other more common delicious Colombian food such as potatoes and corn. One of the most important characteristics that differentiate bandeja paisa from other American traditional dishes is that it's served in a tray or platter, always having one big plate with all its ingredients.
This dish has been attributed an important role in Colombian cuisine. For example, bandeja paisa is usually eaten on Sundays with family and friends. It is also used as a celebratory dish or when people receive visitors at home, or even for political meetings. The bandeja paisa was declared a Cultural Masterpiece in December 2010 thanks to its importance among Colombians and for being one of Colombia's most representative dishes.

The name "paisa" comes from the Colombian department of Antioquia
The word "bandeja" comes from Spanish meaning -tray- and "-paisa" refers to the Paisas people who are said to be Colombians living in the department of Antioquia. The uniquely Colombian dish is so popular that it can be found in the most authentic tourist spots. It even extends to "el pueblito viejo", one of Medellín's quirkiest areas, which serves as a great example of Colombia's culture.
The originality of bandeja paisa lies in its diverse ingredients that make up rich, flavorful, and nutritious recipes. The Colombian bandeja paisa is a symbol of our culture that we are proud to share with the world!
Once you try this typical Colombian Food, you will not want to eat any other type of food ever again.
The bandeja paisa is the best Colombian dish you can ever taste! Latin America has a good reputation for delicious foods, people around the world travel to our beautiful countries with big expectations on what they will eat. Latin food is full of flavor and expresses so much joy to people when they eat it. This authentic Colombian food will remind you exactly why Latin cuisine reigns supreme- the flavors are rich, varied, and complex.
Gives you a taste of Colombia without traveling halfway around the world!
Full of flavor
 You will indulge in delicious food that is both affordable and satisfying
 It has the perfect portions for one person
Delicious fried sweet plantains
 It includes rice, beans, fried plantains, chicharron (pork rinds), ground beef or chicken, eggs, and avocado

Rancheritos Restaurant has been open for over 10 years and is known for our authentic Colombian food
Are you looking for Colombian restaurants?
The authentic Colombian restaurant, Rancheritos, offers dishes that range from breakfast to dinner and everything in between! Colombian dishes are the most diverse not only because of all their flavors but also for how they change throughout different regions. We go from the Colombian ajiaco to empanadas, delicious coffee, special sauces from our coastal regions, and a variety of sweet juices made from tropical fruits.
The Latin restaurant Rancheritos was founded by Nicolás Vargas who came from Colombia to Miami. It was his dream to recreate the Latin American flavors he grew up with and share them with others who are also looking for Colombian food, Latin dishes, or authentic Colombian restaurants in Miami. We have an extensive menu of delicious dishes that will satisfy your appetite and leave you wanting more.
If you're looking for an authentic Colombian experience, then this is the place to go. Rancheritos Restaurant has been open for over 10 years and is known for its authentic Colombian food. For a taste of Colombia without leaving your hometown, try some delicious bandeja paisa at one of our three locations in Boca East, Boca West, and Boynton Beach! Our restaurant offers casual dining with refined dishes that will have you dreaming about them long after you leave.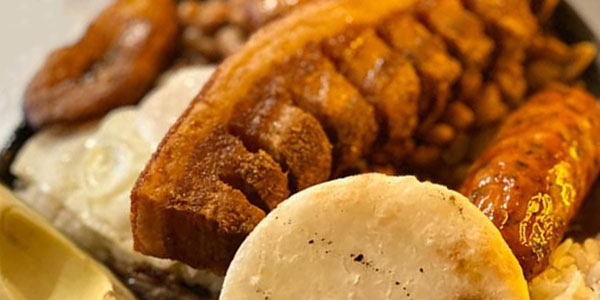 Come visit us today for lunch or dinner and try one of our many mouthwatering dishes! We have pick-up and delivery too!